NEW Family Learning Session – Creativity in Storytelling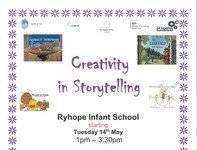 There will be a new Family Learning session starting on Tuesday 14th May at 1pm exploring Creativity in Storytelling.  These sessions are available for our Reception and Nursery families only and is limited to 8 participants.  A letter is being sent home tonight with the Reception and Nusery children but it is also available on our website, for those parents who we have missed today.
Should you wish to register you interest, please complete the slip at the bottom of the letter and return this to school no later than Friday 10th May.