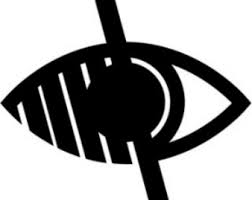 Year 1 Blog
Monday 11th January 2021
Resources for all groups
Smarty Pants/Whizz Kids
Clever Clogs
Bright Sparks and Brain Boxes
Tuesday 5th January 2021
Monday 14th December 2020
Monday 7th December 2020
Monday 30th November 2020
Monday 23rd November
Monday 16th November
Here is the home learning planner for this week 🙂 .
Monday 9th November
Hello Everyone. Here is the Home Learning Planner for this week, should anyone be unlucky enough to be having to isolate.
Monday 2nd November 2020
Monday 19th October 2020
Here is the new Home Learning Planner and supplementary resources. 🙂
Monday 12th October 2020
Please find below, this week's Learning Planner and supplementary resources. Check that you choose the resources allocated to your child's class group. :
English:
Maths:
Science:
Geography:
R.E:
Monday 5th October 2020
Hello again, here is this week's Learning Planner, with all of the resources that you will need, should you be unfortunate enough to have to be isolating right now. Please don't forget to take photographs of your child's completed work and email them to us for marking and including in their workbooks, or you can also now send photographs'/videos via Class Dojo! Have a great week! 🙂
Monday 28th September 2020
Hello again everyone! We will be once again updating our blogs with a weekly Home Learning Planner. This is to enable any children who are having to self isolate, keep up with their learning. Please remember, we must now have a copy of your child's learning returned to us in order to mark it and include it in their evidence books. This evidence may be photographed and emailed to us via the main school address. Thank you, once again, for supporting your child's continued learning and helping us to make sure that their progress does not suffer in these difficult and uncertain times.
Please find this week's home learning planner attached, along with supporting materials for your child to record their activities.
Monday 13th July
We have reached our final week of this school year! What a strange and unexpected year it has been. Mrs Simpson and Mrs Ramsay are sad that they didn't get to teach you for your whole Year 1 year! We are really looking forward to seeing you when you return to your new teachers. We have told them all about you and they are really excited that you will be joining them in September. Your final Year 2 learning grid is attached below. Have a lovely week…
Monday 6th July
Hello boys and girls, we hope you are still trying hard with your home learning. In school we followed the same learning grid as you did at home and ended up making a story about Marissa the Mermaid. If you wrote any stories or made any books we would love you to send us some pictures. We have uploaded the learning grid and resources for this week. Happy learning.
Monday 29th June
Hi everyone, are you ready to start another week of learning? Some of you maybe finding it hard to concentrate as there are so many other things you can do at home. Just remember to try your best and do as much as you can, even if you are helping out in the house or garden. We are looking forward to welcoming some of you back to school this week, we will be doing the same work as what is on the learning grid that is uploaded below. Keep trying hard and keep smiling. Grown-ups you are doing an amazing job too!
Monday 22nd June
Morning everyone, what a lovely sunny start to the week, lets hope the glorious weather we were having is making a return!
We hope everyone is well and still trying to do some school work. Its getting a little tough now as we have been out of school for so long, nobody knew it would last this long!! Keep trying hard and help your grown ups as much as you can. Here is this weeks learning grid and resources. Have a good week.
Monday 15th June
Hello boys and girls, we hope you are all ok and still helping out at home. It has been lovely talking to some of you over the last few weeks. If we haven't managed to yet we will try a couple more times. Here is this weeks learning grid with resources you can download.
Monday 8th June
Hi everyone, we hope you are all well and have been enjoying the lovely weather that we have been having. Make sure if it is sunny you pop your sun tan cream on!
We have added this weeks learning grid and also the resource sheets that you can download to print or even just to look at. It looks like Twinkl are ending their free access soon so the resources on there will be limited.
We would like to say a huge thank you to all of the grown ups who are helping you to learn at home so well done to all. Keep up the good work and most of all, have fun!
Internet Safety
You will find all of the activity packs on this page related to internet safety.
https://www.thinkuknow.co.uk/parents/Support-tools/home-activity-worksheets/5-7s/
Monday 1st June
Hello again girls and boys! We hope you have had a lovely half term holiday. Hasn't the weather been fabulous? This is our last half term in Y1 and we have some exciting and fun challenges planned for you all!
Our topic is "Where did the wheels on the bus go?" We will be finding out about different modes of transport from the past and present, and comparing places around the world- maybe you have been on holiday to some of them?
In Science we will be investigating materials and their uses, and in P.E we will be focusing on traditional dances from around the world.
We hope that you are continuing to stay safe and well, we miss you all so much, but it is lovely to see your photographs of all the different activities that you are doing at home. Please keep sending them to us!
Photographs can be sent as always, directly to our Facebook inbox, or to our email at [email protected] Please remember that we can only access your wonderful videos via our email, as we are unable to upload them to the page from Facebook.
Your new challenge grid and resources can be downloaded below, please don't forget to say a big thank you to your grown-ups for continuing to support your learning until we can all be back together at school again! 🙂
Internet safety for Year 1 children:

You can now acess your fifth #OnlineSafetyAtHome pack with new activities for parents and carers to use at home:
https://www.thinkuknow.co.uk/parents/Support-tools/home-activity-worksheets/5-7s/?utm_source=Thinkuknow&utm_campaign=e9ea1fa21d-TUK_ONLINE_SAFETY_AT_HOME_19_05_20&utm_medium=email&utm_term=0_0b54505554-e9ea1fa21d-55357369
Monday 18th May
Hello boys, girls and grown ups. Well done to you all for the fantastic home learning you have been doing. We are still missing you all and hope you are all staying safe and enjoying time with your families. Here are some websites that you might want to use that has access to games and activities that will support your learning or just be fun:
https://www.bbc.co.uk/cbeebies/games
https://lol.disney.com/games/coloring-pages
This weeks learning grid is ready to download below: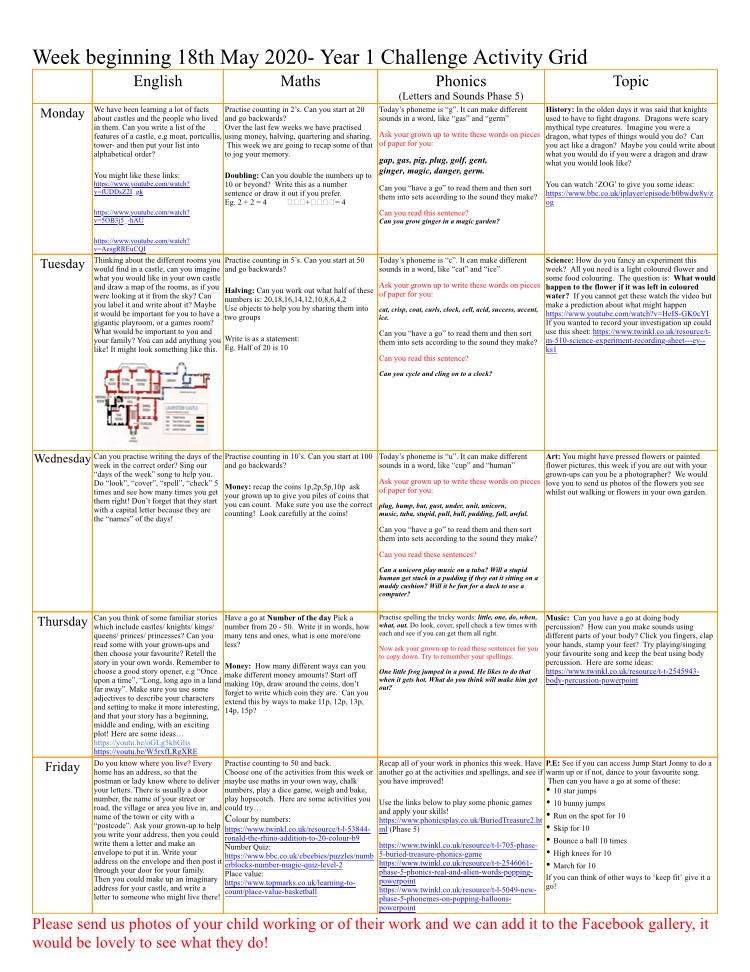 Monday 11th May
Hello everyone we hope you are all safe and well. We hope everyone is managing ok to keep busy at home. We love that you are joining in with the songs and fun activities we have been posting on Facebook, please keep sending us the photos of what you are doing, it is so nice to see you all keeping busy. The biscuits and cakes you have been baking look delicious and your gardens are going to look gorgeous with all of the planting that has been going on. Keep trying hard with your school activities, remember to practise your reading, help out at home and stay safe. This weeks learning grid is just below to download.
Remember you can send photographs to us you via Facebook Messenger or [email protected] Any videos should be sent to parentshare as we can't seem to download them from Facebook.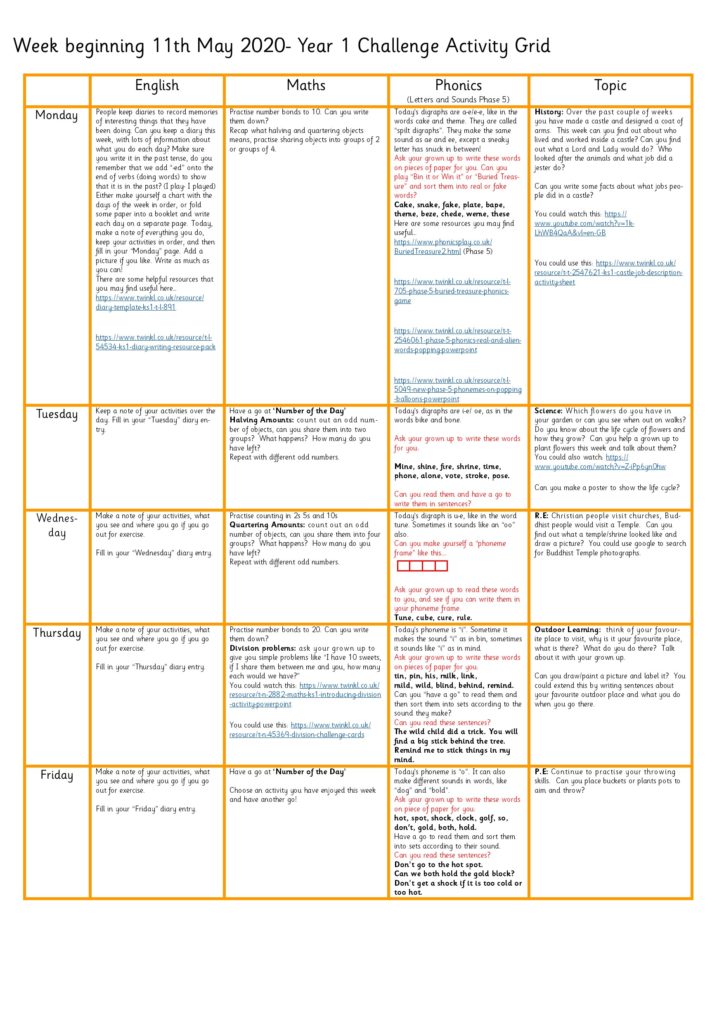 Online Safety Activities
Think you know have created these activities to support parents during Covid-19 and the closure of schools. Each fortnight, they will be releasing new home activity packs with simple 15 minute activities you can do with your child to support their online safety at home. This page includes all packs for children aged 5-7.
https://www.thinkuknow.co.uk/parents/Support-tools/home-activity-worksheets/5-7s/?utm_=Thinkuknow&utm_campaign=f4fd0dd4ee-TUK_ONLINE_SAFETY_AT_HOME_05_05_20&utm_medium=email&utm_term=0_0b54505554-f4fd0dd4ee-
Monday 4th May
Hello everyone, we are at the beginning of another week. We hope everyone is staying safe. Thank you so much for all of the photographs you are sending us, we love seeing what you are busy doing. We have added a learning grid below which you can download. There are lots that you can keep busy with but if your learning takes a different path that is also fine. It's great to see you baking, helping in the garden and enjoying time with your family. If you would like to send photographs to us you can do this via Facebook Messenger or via [email protected] Any videos should be sent to parentshare as we can't seem to download them from Facebook.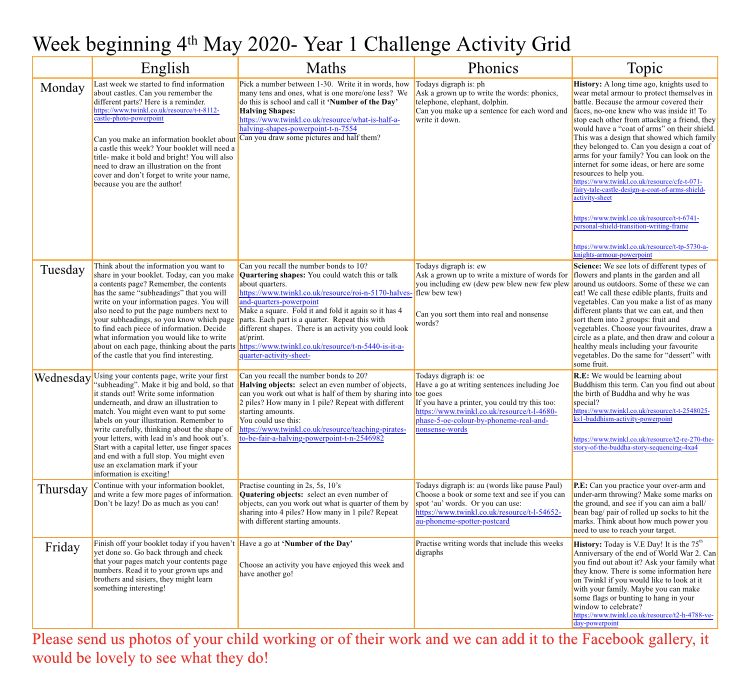 Monday 27th April
Morning to everyone, hope everyone is fit and well. Here is a learning grid for this week to give you some ideas of what you can do. If there are other activities you will find interesting, please do them too, this is just a guide. Try and spend some time outdoors, read books, draw or paint pictures or help your grown up around the house. If you are baking you can help weigh ingredients or if you are helping in the garden, maybe talk about what plants need to help them to grow? If you would like to send us any photographs of the work, please do and we will add to the Facebook gallery. Use Facebook messenger or [email protected]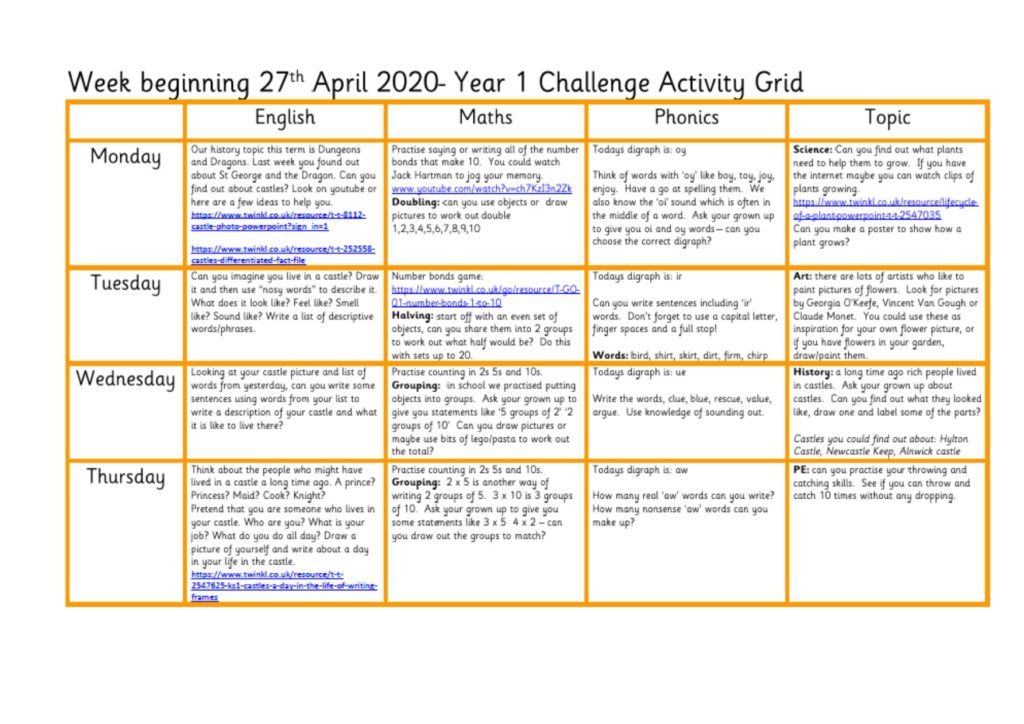 Monday 20th April
Hi everyone, this is the start of another school week. We have added a learning grid to give you some ideas of what you can do each day. If you would like to send us any photographs of the work, please do and we will add to the Facebook gallery. Use Facebook messenger or [email protected]
Please click to download and you will get live links to the online activities.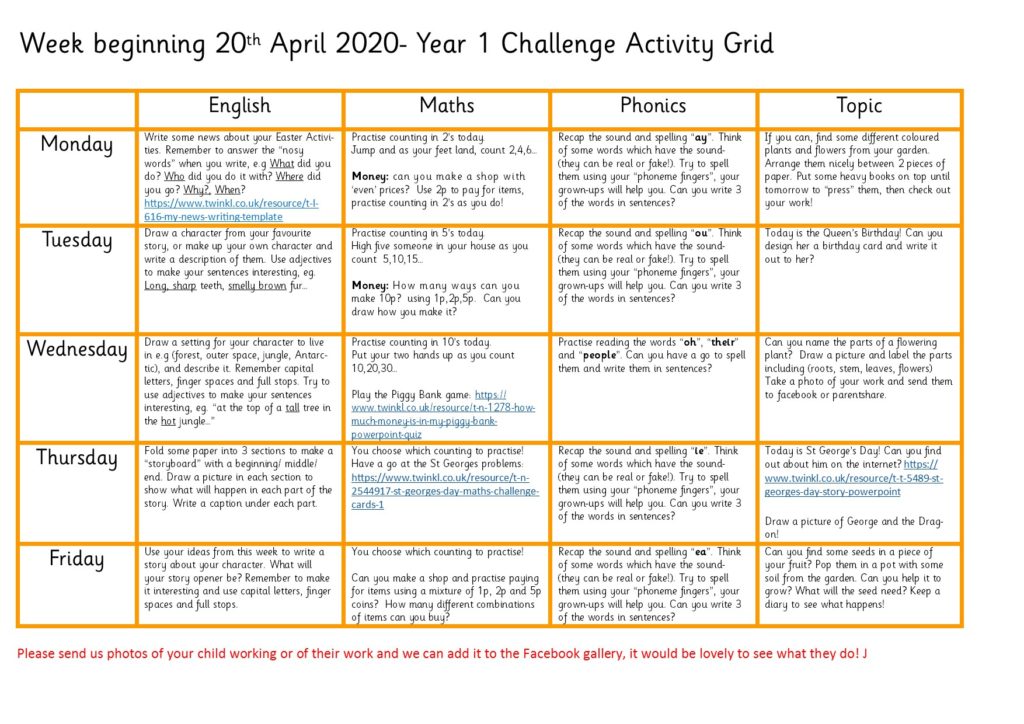 Tuesday 31st March
We hope you are all well and having fun learning at home. We have some extra activities that you can download and print.
Monday 30th March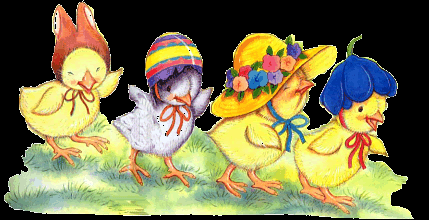 Easter Bonnet Challenge
On Friday 3rd April it would have been our school Easter bonnet parade around Ryhope. So, we have a challenge for you for this week!

Could you have a go at making an Easter bonnet or craft and send us some pictures of you being creative and with your finished creation?

On Friday, we will fill our school facebook page with all of your Easter bonnet / craft pictures and make our own parade!

Send your photos to – [email protected] or on facebook messenger.

Need a bit of inspiration? There are lots of different examples of Easter bonnets on Google.
https://www.google.com/search?q=home+made+ester+bonnets&rlz=1C1CHBF_en-GBGB831GB831&oq=home+made+&aqs=chrome.0.69i59l2j69i57j0l5.4829j0j9&sourceid=chrome&ie=UTF-8
Thursday 19th Match
Below are the links and information for interactive games that can be used to support Year 1 children. You will need to register via www.twinkl.co.uk/offer using the code PARENTSTWINKLHELP
Once registered, clicking on the links will take you straight to the games.

Maths
Number bonds to 10 game: https://www.twinkl.co.uk/resource/T-GO-01-number-bonds-1-to-10
Number bonds to 20 game: https://www.twinkl.co.uk/resource/T-GO-02-number-bonds-1-to-20
Splat the number: https://www.twinkl.co.uk/resource/t-n-2544858-splat-100-square
Find the number: https://www.twinkl.co.uk/resource/t-n-5966-numbers-on-popping-balloons-powerpoint-
Addition game: https://www.twinkl.co.uk/go/resource/tg-ga-128-super-pairs-addition-to-20-pairing-game
Letters and Sounds
Phase 3 phonics game: https://www.twinkl.co.uk/resource/T-GO-09-name-an-alien-phase-3-phonics
Phase 5 phonics game: https://www.twinkl.co.uk/resource/twinkl-phonics-galaxy-game-tg-ga-193
Spelling game: https://www.twinkl.co.uk/go/resource/level-2-phonics-matching-bingo-game-tg-ga-201
Sounds game: https://www.twinkl.co.uk/go/resource/level-5-phonics-sounds-pairs-game-tg-ga-118
Monday 16th March
Today we have been learning about the parts of a tree. First we made a tree using a range of materials and we talked about what the different parts do. We were very knowledgeable and were able to explain how the roots 'suck up the water' and keep the tree steady. We also talked about how you can tell how old a tree is! We had great fun and we showed how much we remembered by drawing and labeling our own trees!
Thursday 12th March
Today we did an experiment called a 'Storm in a Glass'. First we had to collect some materials. Then we followed the instructions to set up the experiment. We made a prediction about what might happen. Zach and Lottie thought that the shaving foam would change colour. Maisie even thought it might explode! Millie said the shaving foam would sink to the bottom. Spoonful by spoonful we added the coloured water. Eventually, underneath the shaving foam started to get stormy as the coloured water dripped through. We got excited when the storm came. We tried it again with another colour.
Tuesday 3rd March
Year 1 had a brilliant time at Barnes park this afternoon. We explored the whole park, searching for animals and looking at the different plants and trees. We identified deciduous and evergreen trees by the types of leaves we could see or looking at the bare trees that had lost their leaves! We noticed that daffodils were beginning to grow and there was a carpet of snowbells. We crept really quietly in places so that we could see animals if they decided to pop out and see us. We spotted squirrels, lots of birds and even a rabbit, as it ran in and out of the bushes! It was an excellent experience and will really support us with our Science and Geography work.
Thursday 6th February
Today we worked with Kyle from Durham cricket club. He brought in lots of equipment and we played games to help us practise controlling a ball, holding a cricket bat and working as a team. We cheered each other on and showed excellent sportsmanship!
Tuesday 4th February 2020
Today we went outside to explore shadows! We have learned all about how shadows are made and we know that the object or our bodies block the sun from passing through. We have been learning about objects that are 'transparent' and 'opaque' and we can explain what these words mean.
We were able to say where the shadow would be as we know the sun is on the opposite side of the object.
Monday 20th January 2020
We are learning to be designers!
Our brief is to design and make 'a moving picture'. We have started by looking at books that have 'moving components'. We talked about how they work, what happens and how effective they are.
Our next task was to learn about how we can make part of a picture move. We learned how to make a slider. We were fantastic at following the given instructions. We selected our resources when we needed them and worked really independently. Our next task will be to design our own picture and decide which part will move.
Tuesday 14th January 2020
We are marvellous mathematicians! We have been learning about number bonds and how to find missing numbers…
…our teachers are so proud of how confident we are becoming when talking about how we work out our answers!
Monday 13th January 2020
This week we have started to learn all about day, night, light and dark. We are able to talk about how we actually get day time and night time! We explored light sources and could explain the difference between natural and man-made light sources!
Wednesday 11th December 2019
Year 1 are thoroughly enjoying working with our coach Arj, we have been practising our sporting skills and learning about controlled movements. We have shown that we have excellent listening skills and Arj is impressed with how our skills are developing!
Friday 8th November 2019
It's been a busy week here in Year 1! In Maths we have been writing calculations and using resources to help work out the answers. We have had fun using the computers and iPads, and have made Rangoli patterns using shapes.
In PE we have been doing gymnastics using the large apparatus. We have been learning all about starting and finishing positions and how to use the equipment safely.
Tuesday 8th October 2019
We had fun exploring our local environment on our Autumn scavenger hunt. Here are some of the things that we collected.
Monday 7th October 2019
We have been learning about sculptures and how they are planned and designed. We looked carefully at local sculptures and made our own versions using different materials.
Wednesday 11th September 2019
Welcome to our Year 1 blog!
We are looking forward to keeping you up to date with what we are doing in Year 1.
Everyone arrived back to school keen and eager to learn! We are getting to know our new teachers and making new friends. It was our first enrichment session today, with our coach, Arj! It was great fun and he said that our behaviour was amazing! We listened so carefully and enjoyed the games we played.
This term our theme is "What do we know about where we live?"
We will be learning about our local area, the well known landmarks nearby and the artists that made them. We will be exploring our environment by using our senses and will practise being scientists, by making predictions and investigating!
It's going to be a great term! Watch out for updates to our blog!
A little reminder…please make sure all uniform, PE kit and coats have names inside then they are easier to return to their owners if lost. This would really help us out.