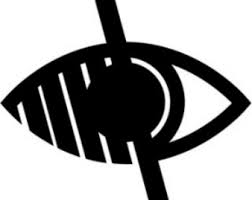 Year 2 Blog
Monday 27th January 2020
Today we had a visitor called Claire who delivered a STEM session to us. She talked to us about being safe in and around a construction site and brought equipment that we could explore such as reflective jackets, hard hats, measuring wheels etc. We carried out a role play session of different jobs such as a brick layer, surveyor but most importantly the boss!!! We learned lots of facts about buildings and how to build a steady wall. We really enjoyed this session and can't wait for our next one!!
Friday 24th January 2020
We have worked extremely hard on our superhero topic so far and because of our interest and enjoyment around the topic we were rewarded with a superhero day full of super special activities!!
We designed our own superhero paintings and comic strips. We made superhero vehicles and capes. We made superhero bands, cuffs, logos and even helped Miss Welch make the Hulk's hands for our display!! On the afternoon we made superhero biscuits and had the opportunity to go into the hall and participate in some superhero games. We had so much fun and wish we could do it all again!!!
Take a look at the pictures below to see some of our creations!…
Thursday 23rd January 2020
Happy New Year and welcome back to our Year 2 blog!
This half term we are focusing on a Superhero topic and so far we are really enjoying finding out about fictional superheroes and the real life superhero Florence Nightingale!! We have learned lots of interesting facts about Florence and are looking forward to being historians and finding out more information from the past.
Recently we have just finished reading Eliot the Midnight Superhero and wrote brilliant character descriptions related to this book! We then decided we wanted to write our own superhero poem and started rehearsing this last week. By the end of the week we became poets and read our fantastic superhero poems to our friends!
Wednesday 18th December 2019
Year 2 have had a fantastic Polar Express day. We made rocky road and drank hot chocolate. When Santa arrived each child got a golden ticket and we made own Polar Express journey through school to see him. The children had lots of fun!
Friday 29th November 2019
We have had a busy month!
In Geography we have been looking at maps and produced a map of our school and the surrounding area using a key.
In RE we have looked at the celebration of Diwali. We found out why and how it is celebrated and produced some of our own Rangoli patterns.
In Science we carried out some spooky investigations where we mixed different ingredients in our potions to find out what reactions would be caused.
We dressed up in spotty clothes for Children in Need and talked about why we brought money in to donate to charity and what the money would be used for.
Wednesday 6th November 2019
This week we have been learning how to subtract two digit numbers. We have used practical resources, found methods to draw it out and even tried to work in out in our heads.
Tuesday 22nd October 2019
We had a fantastic time during our pirate day! We took part in pirate activities including a pirate treasure hunt, a maths related obstacle course where we had to walk the plank, and we designed and built pirate ships using junk to help the pirate cross the water to get to his treasure. Our teachers thought we made brilliant pirates!
Thursday 17th October 2019
Today we were visited by our local Coast Ranger, Ian Graham. He told us all about his job and what he does with his team to help protect our coastline. Did you know we have a special type of soil that is not found anywhere else in the world? We think that is amazing!
Monday 7th October 2019
On Friday we were visited by our local Police Community Support Officers (PCSOs). They visited our classroom and shared with us how they help our community. We even got to try on some of their uniform!
Wednesday 27th September 2019
As part of International Week we looked the country, Spain. We found out lots of interesting facts and looked at the work of the Spanish artist, Antoni Gaudi who is well known for his mosaic artwork. We had a fun week learning about Spanish cultures, creating our own mosaic artwork and making Spanish food.
Thursday 19th September 2019
This morning we had a fantastic walk to explore our local coastline. We followed a map to find the beach and spotted local landmarks on the way. On the beach we looked in the rock pools, collected pebbles and wrote our names in the sand. We hope you like looking at our photos.
Wednesday 18th September 2019
We have been doing some fantastic artwork today in Year 2. Some children were sketching pictures from the Smiley Shark story thinking carefully about drawing the shape and then using shading to add detail. Other children were exploring making pictures of sea creatures using powder paints, water colours or oil pastels. We thought about what we could see in the pictures and looked carefully at details that had been included. We are trying to become good illustrators by thinking about what colours we need to use, staying in the lines and not leaving any white gaps when colouring.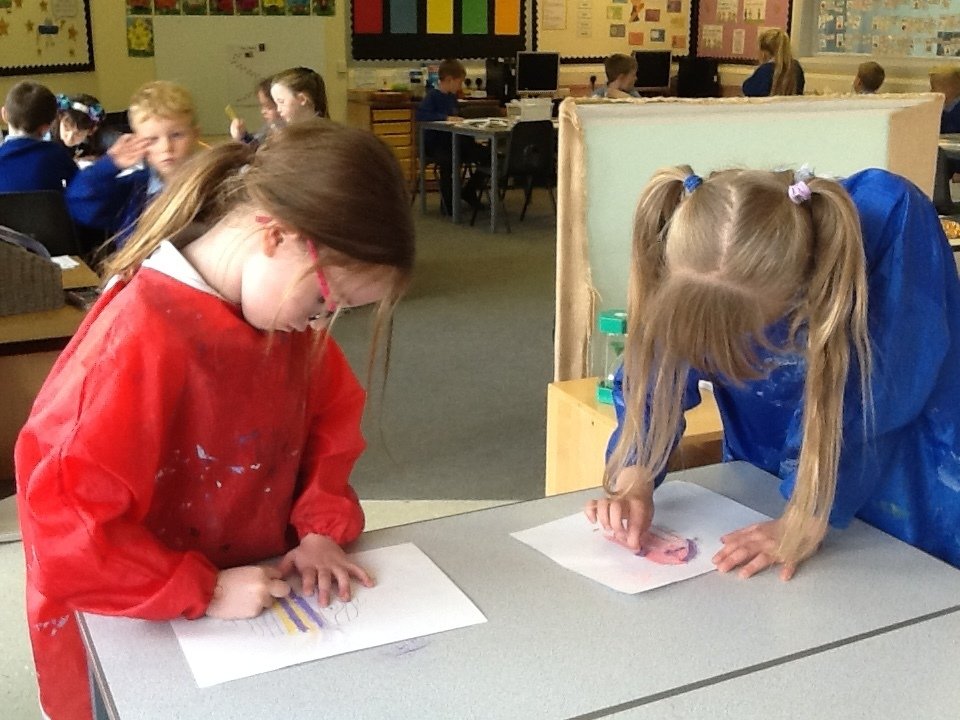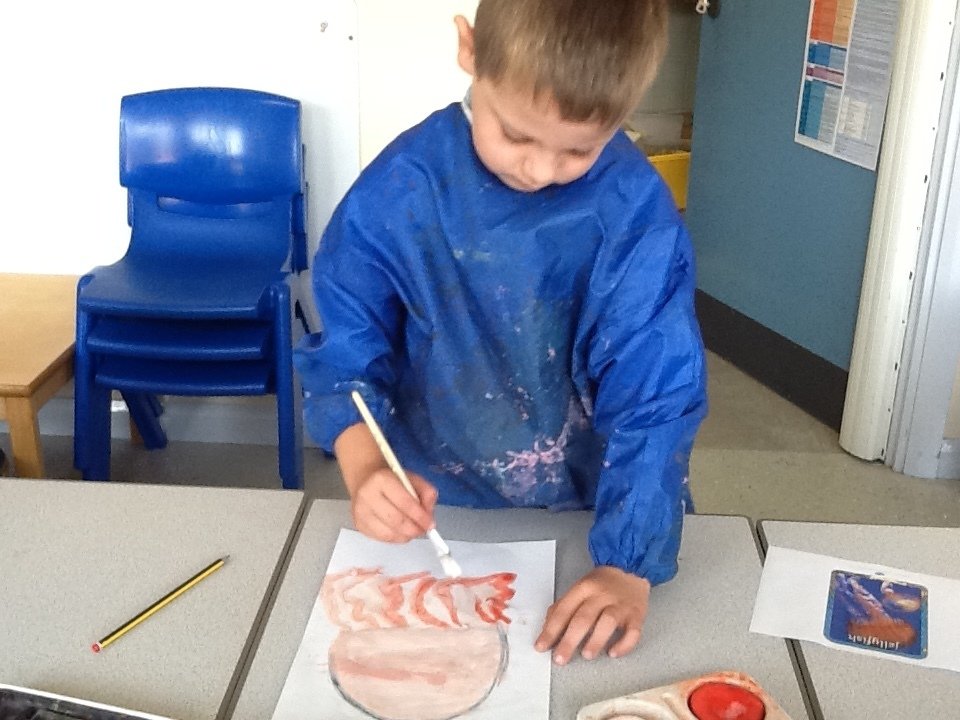 Wednesday 11th September 2019
Welcome to our blog! We have had a fantastic first week back at school and looking forward to a great year ahead. Our new teachers are impressed with how well we have settled into Year 2.
This week, in Maths we have been working with tens and ones and showed how we can represent numbers in different ways. In English we have read a story called Smiley Shark and made a list of exciting adjectives to describe the main character. We have also had fun making different shades of a colour by adding black or white and will be exploring this further over the next two weeks.
Our topic for this half term is 'Living by the sea' and we have lots of exciting things planned. We are going to be learning about our local area and coastline and thinking about the types of habitats they provide for plants and animals.
We will keep our blog updated regularly so you can see the fun we have learning throughout the year!